Cape & Islands - Desperately Awaiting Signs of Spring!
The calendar says Spring, but all of Mother Nature's signs of spring are still hidden as we await an end to the longest, coldest, snowiest winter on record. The crocuses should be in full bloom and the daffodils should be sprouting leaves but sadly the bulbs are still frozen and buried under multiple feet of snow - let's hope for a showing later in the month.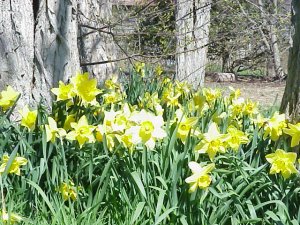 Despite the too cold weather, there are several signs of Spring...

Read more »
WEDNESDAY, MAY. 6
Meeting - Alcoholics Anonymous
Story Hour - Storytime at Osterville Village Library
Story Hour - Story Hour at Brewster Ladies Library
Education - Mexican Cuisine with Peggy Eagan
Lecture - Artist Duos in Lower Cape Studios
Fundraiser - 3rd Annual Fashion Show and Shopping Event
Nightclub Entertainment - Open Mic - with Kathleen Healy
Entertainment - Trivia with Cubey at BBC Sandwich
THURSDAY, MAY. 7
Meeting - Alcoholics Anonymous
Entertainment - Mah Jong
Entertainment - MahJong Group at Brooks Free Library
Story Hour - StoryTime at Snow Library
Story Hour - Storytime with Ms. Megan
Bingo - Bingo! at St. Pius X
Wine / Food Tasting - 11th Annual Welcome Spring!
Nightclub Entertainment - Charlie Jamieson
Nightclub Entertainment - Rossacroo-Na-Loo at Orleans Bowling Center
Bingo - Bingo! at St. Jonh's - Pocasset
Entertainment - Trivia at the Squire
Concert - "Remember Jimi Hendrix" concert
Nightclub Entertainment - Daniel Byrnes Trio
Nightclub Entertainment - 57 Heavy